The trick o' treaters have gone, the costumes have been lovingly folded, and, if you're lucky, your home and yard are beginning to again resemble a dwelling of the living.  While we saw several incredibly unique and clever concepts this year, we also noticed a surge in 5 particular motifs across haunts small and large.  Did you join in on the fun with any of these?
#5: Spiders
When Home Depot leads their Halloween lineup with a detailed, posable, hissing 9' spider, it only makes sense that many of us would find a way to incorporate it.  We saw these incredible beasts on lawns, on roofs, and even one in a giant indoor web that filled the top half of a 2-story foyer.  While most of these intimidating arachnids were integrated into a multi-themed display, we definitely saw an increase in entirely spider-themed haunts that must have taken miles of beef netting and thousands of smaller spiders to execute.
#4: Michael Myers
Maybe we're all excited about the 2018 release, or maybe he's just a thoroughly creepy character that is easy enough to build with a jumpsuit and beat up Captain Kirk mask, but The Shape was all over the place this season.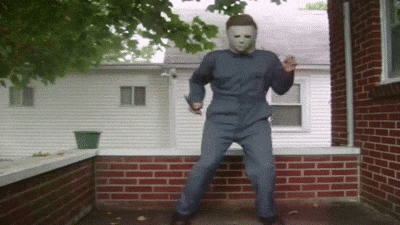 Anecdotally, the costume is also great for your actors that can hide in plain sight by posing as a prop until they go in for the scare.  We've all seen enough Myers props that we are not instinctively suspicious, and the mask and jumpsuit cover enough skin to disguise breathing, blinking, or other tells.
#3: Projections
Fire and ice lights create an interesting effect, and projection lights that send glowing spiders crawling over your house are a quick way to decorate in a pinch, but the use of high production-value projections from the likes of AtmosFx and TheSingingPumpkin seems to have skyrocketed in 2017.
While many haunters have used these projections to decorate their windows from inside their homes, we also saw an increase in the use of 3D models as the projection targets.  AtmosFX makes their own 3D inflatable form that you cover with their specialty projection cloth, but we saw people using other forms like a sheet over a spare mannequin with surprisingly good results.
#2: Swamps
Dead Waters at Universal Orlando's Halloween Horror Nights had one.  Denver's 13th Floor Haunted House had one. So did many home haunts.  It's not a new scene, but one that we saw executed well everywhere from yards to multi-million-dollar commercial haunts.
If you are already using fog anywhere in a haunt, creating a swamp is as simple as aiming a line laser through the top of the fog parallel to the ground.  Though they've been using it for a few years now, I still rank the Asylum/13th Floor's swamp as the best because of their use of inflatable obstacles below the laser line.  In a dark haunt, the light from the lasers is already disorienting, and the obstacles really push the experience over the "this is uncomfortable!" edge.
#1: Pennywise and his Red Balloons
The long-awaited movie adaption of Stephen King's "It" clearly delivered, because red balloons and Bill Skarsgard's Pennywise were everywhere this Halloween season!
(Ima
While some horror fans insist that Tim Curry's character in the 1990 mini-series was far superior, the 2017 film gave haunters a new, identifiable, and iconic character in the same vein as Jason or even Frankenstein's monster.  Putting aside all feelings on the plot or the merits of this particular adaptation, seeing red balloons tied to random sewer grates warmed this haunter's heart with the knowledge that creative horror fans are lurking everywhere.